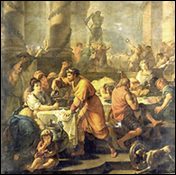 BC 497–The first Saturnalia festival is celebrated in ancient Rome.

546–In the Siege of Rome, the Ostrogoths, under King Totila, plunder the city, by bribing the Byzantine garrison.

920–Romanos I Lekapenos is crowned co-Emperor of the underage Constantine VII.

942–William I of Normandy is assassinated.

1398–Sultan Nasir-u Din Mehmud's armies in Delhi are defeated by Timur.

1471–Isabella of Portugal dies in Dijon, France, at age 74.

1538–Pope Paul III excommunicates Henry VIII of England.

1583–Forces under Ernest of Bavaria defeat troops under Gebhard Truchsess von Waldburg at the Siege of Godesberg, during the Cologne War.

1586–Go-Yozei becomes Emperor of Japan.

1600–Henry IV of France marries Marie de' Medici.

1718–Great Britain declares war on Spain.

1777–France formally recognizes the United States of america.

1790–The Aztec calendar stone is discovered.

1807–France issues the Milan Decree, which confirms the Continental System.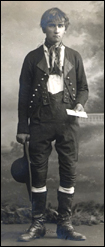 1807–Poet, John Greenleaf Whittier, is born near Haverhill, Massachusetts. He was an American Quaker poet and advocate of the abolition of slavery in the United States. Frequently listed as one of the Fireside Poets, Whittier was influenced by the Scottish poet, Robert Burns.

1812–During the War of 1812, U.S. forces attack a Lenape village in the Battle of the Mississinewa.

1819–Simón Bolívar declares the independence of Gran Colombia in Angostura (present-day Ciudad Bolívar in Venezuela).

1833–Feral child, Kaspar Hauser, dies from a stab wound by a stranger in Ansbach, Bavaria, German Confederation, at age 21. Some believe the wound was self-inflected. He was buried in the Stadtfriedhof (city cemetery), where his headstone reads in Latin, "Here lies Kaspar Hauser, riddle of his time. His birth was unknown, his death mysterious. 1833." Hauser had claimed to have grown up in the total isolation of a darkened cell. As a teenage boy, he said the first human being with whom he ever had contact was a mysterious man who visited him not long before his release, always taking great care not to reveal his face to him. This man, Hauser said, taught him to write his name by leading his hand. After learning to stand and walk, he was brought to Nuremberg, Germany.

1835–The second Great Fire of New York destroys 50 acres of New York City's Financial District.

1837–A fire in the Winter Palace of Saint Petersburg in Russia kills 30 guards.

1862–During the American Civil War, General Ulysses S. Grant issues General Order No. 11, expelling Jews from parts of Tennessee, Mississippi, and Kentucky.

1865–The first performance is given of the Unfinished Symphony by Franz Schubert.

1892–The first issue of Vogue magazine is published.



1894–Boston Pops conductor, Arthur Fiedler, is born in Boston, Massachusetts. With a combination of musicianship and showmanship, he made the Boston Pops one of the best-known orchestras in the United States.

1896–Schenley Park Casino in Pittsburgh, Pennsylvania, is destroyed by fire. It was the first multi-purpose arena in North America with the technology to create an artificial ice surface.

1900–A first prize of 100,00 francs is offered for anyone who has communications with extraterrestrials. However, Martians are excluded: they are considered "too easy."

1903–The Wright brothers make the first controlled powered, heavier-than-air flight in the Wright Flyer at Kitty Hawk, North Carolina.

1907–Ugyen Wangchuck is crowned first King of Bhutan.

1909–Leopold II of Belgium dies in Laeken, Belgium, at age 74. He reigned for exactly 44 years, the longest reign of any Belgian monarch.

1918–Up to 1,000 demonstrators in the Australian Workers' Union march on Government House in Darwin, Northern Territory, Australia.

1919–Uruguay becomes a signatory to the Buenos Aires copyright treaty.

1925–Actress, Julia Meade, is born Julia Meade Kunz in Boston, Massachusetts. She was an American film and stage actress who was a frequent pitch person in live commercials in the early days of television in the 1950s. She appeared in the films Pillow Talk, Tammy Tell Me True, and Presumed Innocent.

1926–Antanas Smetona assumes power in Lithuania, as the 1926 coup d'état succeeds.

1927–Indian revolutionary, Rajendra Lahiri, is hanged in Gonda jail, Uttar Pradesh, India, two days before the scheduled date.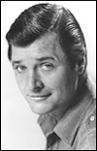 1927–Actor, Richard Long, is born in Chicago, Illinois. He is best known for his co-starring role on the TV series The Big Valley. He appeared in the films Tomorrow Is Forever, The Stranger, The Dark Mirror, Criss Cross, Ma and Pa Kettle, The All American, He Laughed Last, House on Haunted Hill, and Follow the Boys.

1928–Indian revolutionaries, Bhagat Singh, Sukhdev Thapar, and Shivaram Rajguru, assassinate British police officer, James Saunders, in Lahore, Punjab, India, to avenge the death of Lala Lajpat Rai at the hands of the police.

1928–Journalist, Marilyn Beck, is born Hanna Marilyn Mohr in Chicago, Illinois. She was a syndicated Hollywood columnist who rose to prominence on the heels of Hedda Hopper and Louella Parsons. Beck's hard news reporting approach to celebrity journalism was in sharp contrast to newspaper and fan magazine celebrity stories of the 1950s and 1960s, and served as a precursor to such current-day celebrity news publications as People and US.

1928–Actor, George (Smith) Lindsey, is born in Fairfield, Alabama. He is best known for the role of Goober Pyle on the TV series The Andy Griffith Show.

1930–Publisher, Bob Guccione, is born Robert Charles Joseph Edward Sabatini Guccione in Brooklyn, New York. He founded Penthouse magazine. His publication was aimed at competing with Hugh Hefner's, Playboy, but with more extreme erotic content, a special style of soft-focus photography, and in-depth reporting of government corruption scandals. Due to the growth of free online porn in the 1990s, the adult magazine was diminished. In 2003, Guccione's publishers declared bankruptcy.

1935–The first flight of the Douglas DC-3 is made.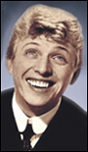 1936–Pop vocalist, Tommy Steele, is born Thomas William Hicks in Bermondsey, England. Regarded as Britain's first teen idol and rock and roll star, he was dubbed the U.K.'s answer to Elvis Presley. He appeared in the films The Duke Wore Jeans, Light Up the Sky!, Half a Sixpence, The Happiest Millionaire, and Finian's Rainbow.

1938–Otto Hahn discovers the nuclear fission of the heavy element uranium, the scientific and technological basis of nuclear energy.

1939–Eddie Kendricks, of The Temptations, is born Edward James Kendrick in Union Springs, Alabama. His was the lead voice on the songs The Way You Do The Things You Do, Get Ready, and Just My Imagination (Running Away with Me).

1943–All Chinese people are again permitted to become citizens of the United States with the repealing of the Act of 1882 and the introduction of the Magnuson Act.

1944–In World War II's Battle of the Bulge, American 285th Field Artillery Observation Battalion POWs are shot by Waffen-SS Kampfgruppe, Joachim Peiper.

1945–American journalist and author, Chris Matthews, is born Christopher John Matthews in Philadelphia, Pennsylvania. He is known for his nightly hour-long talk show, Hardball with Chris Matthews, on the cable TV channel MSNBC.

1947–The Boeing B-47 Stratojet strategic bomber makes its first flight.

1949–Paul (Bernard) Rodgers, of Bad Company, is born in Middlesbrough, England. Rodgers has been cited as a significant influence on a number of notable rock singers, including David Coverdale, John Waite, Steve Overland, Lou Gramm, Jimi Jamison, Eric Martin, Steve Walsh, Joe Lynn Turner, Paul Young, Bruce Dickinson, Robin McAuley, Jimmy Barnes, Richie Kotzen, and Joe Bonamassa.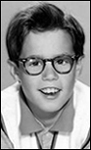 1951–The American Civil Rights Congress delivers "We Charge Genocide" to the United Nations.

1953–Child actor, Barry (Gordon) Livingston, is born in Hollywood, California. He is best known for the role of Ernie Douglas on the TV sitcom My Three Sons. He appeared in the films Rally 'Round the Flag Boys, The Errand Boy, My Six Loves, First Daughter, The Social Network, Argo, and Jersey Boys. His older brother is actor, Stanley Livingston.

1957–The United States successfully launches the first Atlas intercontinental ballistic missile at Cape Canaveral, Florida.

1959–On the Beach premieres at the Astor Theatre in New York City and in 17 other cities. It is the first motion picture to debut simultaneously in major cities around the world. The film tells the story of a dying world after bombs are dropped during a nuclear world war.

1960–Troops loyal to Emperor Haile Selassie in Ethiopia crush the coup that began December 13th, returning power to their leader upon his return from Brazil.

1960–Twenty passengers and crew on board a Munich C-131 are killed during its crash. Thirty-two people on the ground are also killed.

1961–A fire breaks out during a performance by the Gran Circus Norte-Americano in the city of Niterói, Rio de Janeiro, Brazil, killing more than 500 people.

1967–Australian Prime Minister, Harold Holt, disappears while swimming near Portsea, Victoria, and is presumed drowned.

1968–The film, Candy, premieres in New York. It is a sex farce directed by Christian Marquand, based on the 1958 novel by Terry Southern and Mason Hoffenberg, with a screenplay by Buck Henry. The film satirizes pornographic stories through the adventures of its naive heroine, Candy, played by Ewa Aulin. It stars Marlon Brando, Richard Burton, James Coburn, Walter Matthau, Ringo Starr, John Huston, and John Astin.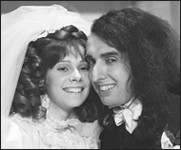 1969–Fifty million TV viewers watch singer, Tiny Tim, marry Miss Vicky, on The Tonight Show starring Johnny Carson.

1969–The SALT I talks (Strategic Arms Limitation Talks) begin in Helsinki, Finland.

1969–The U.S. Air Force closes Project Blue Book, concluding no evidence of extraterrestrial spaceships behind thousands of UFO sightings.

1970–During the Polish protests, soldiers fire at workers emerging from trains, killing dozens of people in Gdynia.

1973–Thirty passengers are killed in an attack by Palestinian terrorists on Rome's Leonardo da Vinci–Fiumicino Airport.

1975–Blues musician, Hound Dog Taylor, dies of lung cancer at age 60. He was known for his electrified slide guitar playing (roughly styled after that of Elmore James), his cheap Japanese Teisco guitars, and his raucous boogie beats.

1981–American Brigadier General James L. Dozier is abducted by the Red Brigades in Verona, Italy.

1983–The IRA bombs Harrod's Department Store in London, England, killing six people.

1989–Protests continue in Timisoara, Romania, with rioters breaking into the Romanian Communist Party's District Committee building and attempting to set it on fire.



1989–Fernando Collor de Mello defeats Luiz Inácio Lula da Silva in the second round of the Brazilian presidential election, becoming the the country's first democratically-elected President in almost 30 years.

1989–The animated sitcom, The Simpsons, makes its debut.

1992–Actor, Dana Andrews, dies of congestive heart failure and pneumonia in Los Alamitos, California, at age 83. In the last years of his life, Andrews suffered from Alzheimer's disease. He appeared in the films Tobacco Road, Ball of Fire, The Ox-Bow Indident, Laura, State Fair, The Best Years of Our Lives, Elephant Walk, The Crowded Sky, In Harm's Way, and Hot Rods to Hell.

1995–According to The London Sunday Times, British Prime Minister, John Major, has received several applications requesting that The Beatles be knighted.

1999–France's Le Parisien newspaper reports the results of a poll of over 1,000 people to determine the country's favorite singers of the century. The Beatles were voted into first place, receiving 28% of the votes. Next are Johnny Hallyday, Charles Aznavour, Luciano Pavarotti, Frank Sinatra, and Elvis Presley.

1999–When an autograph hunter hands Keith Richards a guitar to sign outside New York's Russian Tea Room, Richards walks off with the instrument. The victim opts not to press charges, reasoning, "It's Keith, man."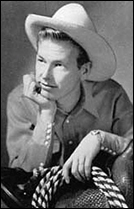 1999–Actor, Rex Allen, dies from fatal injuries when his caregiver accidentally runs over him in the driveway of his home in Tucson, Arizona, at age 78. He is best known as the "Arizona Cowboy," and narrator of many Disney nature and Western film productions. He appeared in the films Hills of Oklahoma, Silver City Bonanza, Old Overland Trail, Down Loredo Way, and Red River Shore.

1999–Saxophonist, Grover Washington, Jr., dies of a heart attack in New York, New York, at age 56. He collapsed while waiting in the green room after performing four songs for The Saturday Early Show, at CBS Studios in New York City. He is considered by many to be one of the founders of the Smooth Jazz genre.

2002–The Congolese parties of the Inter Congolese Dialogue sign a peace accord which makes provision for transitional governance and legislative and presidential elections within two years.

2003–The Soham murder trial ends at the Old Bailey in London, England, with Ian Huntley found guilty of two counts of murder. His girlfriend, Maxine Carr, is found guilty of perverting the course of justice.

2003–SpaceShipOne, piloted by Brian Binnie, makes its first powered and supersonic flight.

2005–Anti-World Trade Organization protesters riot in Wan Chai, Hong Kong.

2005–Jigme Singye Wangchuck abdicates the throne as King of Bhutan.



2009–The MV Danny F II sinks off the coast of Lebanon, killing 44 people and over 28,000 animals. Joe's issues a recall on its Triple Ginger Brew after reports that unopened glass bottles of the soda exploded on store shelves. The potentially affected product was distributed to Trader Joe's stores nationwide.

2009–Actress, Jennifer Jones, dies of natural causes in Malibu, California, at age 90. She appeared in the films The Song of Bernadette, Since You Went Away, Duel in the Sun, Portrait of Jennie, Madame Bovary, Ruby Gentry, Beat the Devil, Terminal Station (aka Indiscretion of an American Wife), Love Is a Many-Splendored Thing, Good Morning, Miss Dove, The Man in the Gray Flannel Suit, A Farewell to Arms, Tender is the Night, and The Towering Inferno.

2010–Mohamed Bouazizi sets himself on fire in Tunisa. This act becomes the catalyst for the Tunisian Revolution and the wider Arab Spring.

2010–Musician, Captain Beefheart, dies from multiple sclerosis in Arcata, California, at age 69. His musical work was conducted with a rotating ensemble of musicians called the Magic Band (1965-1982), with whom he recorded 13 studio albums. His best known album is Safe as Milk, released on Buddah Records in 1967.

2011–Kim Jong-il, North Korean commander and politician, dies of a heart attack in Pyongyang, Democratic People's Republic of Korea, at age 69. He was the second Supreme Leader of North Korea.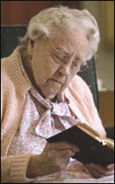 2012–Super-centenarian, Dina Manfredini, dies in Johnston, Iowa, at age 115 (and 257 days). At the time of her death, she was the oldest person ever to be born in Italy, and one of the 10 verified oldest people. She was survived by three of her four children (aged 91, 90, and 84), seven grandchildren, seven great-grandchildren, and 12 great-great-grandchildren.

2015–Trader Joe's issues a recall on its Triple Ginger Brew after reports that unopened glass bottles of the soda exploded on store shelves. The potentially affected product was distributed to Trader Joe's stores nationwide.

2015–Spain's Prime Minister, Mariano Rajoy, suffers a scare when a 17-year-old youth punchea him in the face during a campaign appearance in his northwestern fiefdom of Galicia, Spain. His glasses were broken during the incident. The assailant was immediately detained by police, but it was not clear what his motivations were.

2015–Riots break out in the western Dutch town of Geldermalsen, over plans to establish a center for asylum of Middle Eastern migrants. Local police say they made several arrests. The Dutch government had announced in November that it expected to receive 58,000 refugees by the end of 2016.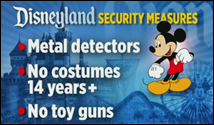 2015–Disneyland and Disney California Adventure theme parks announce that they have placed metal detectors at the esplanade area where guests are screened to enter the parks, and are prohibiting and banning toy gun possession and sales inside the parks. Handlers with "vapor wake" dogs, trained to sniff out explosives, will also roam about the park, and visitors ages 14 and older will not be allowed to enter wearing masks or costumes. Walt Disney World is adopting the same security measures.

2015–A new study by researchers from Harvard and University College London has proven that the long-held belief that Brits have poor dental hygiene is a myth. There has been a belief in the United States that the British have terrible teeth, and this view dates back at least 100 years, with toothpaste ads extolling the virtues of American smiles. The study shows that the oral health of U.S. citizens is not better than the English, with Americans having more missing teeth.

2015–A 6.4 earthquake hits the southern Mexican state of Chiapas. The epicenter is seven miles from the town of Tres Picos, not far from the Pacific coast.

2016–Ethiopia officially opens the Omo River Gibe III hydroelectric dam, one of the biggest in Africa.

2016–President Nicolas Maduro of Venezuela, suspends plans to eliminate the 100 bolivar note from circulation, since most of the population lives on cash.

2016–Two people are killed and at least 15 others are hospitalized following a 55-vehicle accident involving a gas tanker explosion on Interstate 95 in Baltimore, Maryland.


PHOTOS TOP TO BOTTOM: Saturnaila Festival; Kasper Hauser; Arthur Fiedler; Richard Long, Tommy Steele; Barry Livingston; Miss Vicky and Tiny Tim; Dana Andrews; Rex Allen; Jennifer Jones; Dina Manfredini; and new security measures for Disneyland.